Bumper Scuff Repair
A minor 'rub' in a parking lot can take patches of paint off your bumper skin. We can invisibly repair these without resorting to painting the whole bumper skin! Our spot repair process can invisibly repair the damaged area only, saving you a lot of money.
*NEW* Rock/Gravel Guard Paint Protection
Trucks, vans, and commercial vehicles can now have paint protection from gravel or rocks. We evaluate your needs and perform a paint application that applies a color matched protective guard to the bottom of your fenders and lower body. This will stop paint from chipping and rust from appearing now and in the future.
New and previously owned vehicles can benefit in appearance and value from this economical solution.
"Glaze Plating & Power Polishing"
Much more than just waxing. High speed buffing equipment, pressure, and a lot of know-how combine with our special high-silicone glazes to actually burnish the paint. The heat generated by friction in this process is harmless to the paint, but deadly to scratches, and can restore even a badly scratched area to its original factory appearance.
Rust Spot Repair
Surface rust can be invisibly repaired. The area is sandblasted, then treated with a chemical rust inhibitor. Any 'pitting' is filled, and then just the damaged area is refinished, rather than the whole panel. The savings can be considerable.
Head Light Rejuvenation
Yellowed, foggy headlights can be returned to like new brilliance! Our process involves using our scratch and yellowing reduction polish in 3 stages. This is an affordable solution to greatly increasing your night time visability!
Minor Splits and Cracks in Bumper Skins
Body shops will often simply replace a damaged bumper skin, some of which can cost upwards of $600. When the damage is minor, these cracks can be sturdily bonded shut, and then spot repaired, saving you hundreds of dollars.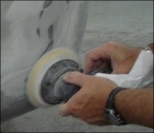 Paint Chip Repair
Lower hoodlines mean that most cars have many of these. Not only are they unsightly, but rust blisters can start in these small chips where the protective paint film is broken away. With our specially blended paints, and a series of 5 chemicals we repair these chips individually, restoring the integrity of the original factory finish. This is also cost effective as it eliminates the need to repaint the whole panel. Our process uses an exclusive chemical bonding agent that not only removes all traces of wax from the chip being repaired, but also ensures that the chip will STAY repaired!
"Key Gouge" Repair
These can be invisibly repaired. The area is sanded out, re-primed, and spot repaired. After the repair is completed, no one will ever know that it was damaged. As we only need to repair the area that is damaged, we save on materials and preparation time. The savings we pass on to you.